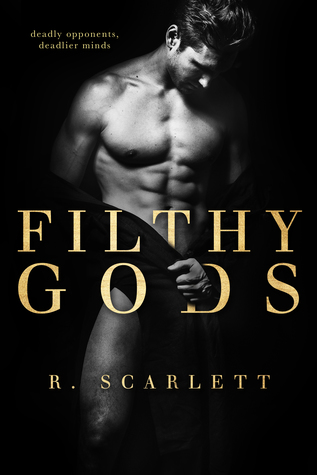 Where the hell was I? How did I not hear about R. Scarlett as yet, ever?
I mean, Wow!
I'm speechless. Blown away by this book.

R.

Scarlett

has given us an amazing story about the Gods who hold all the power, and the women who can bring them to their knees... In this case, one God, and this is, by far, the best introduction I could ever have thought of for these Filthy Gods, can't wait to meet the rest.
I don't know where to begin, honestly. I don't want to ruin anything by revealing any detail that could spoil this for you at all so this review will be based solely on how I felt about their story.
I felt torn. I loved it so much, I didn't want to flip the last page at all, leaving their world behind (at least until the next one comes), but I was also dying to see where R. Scarlett is intent on taking us with this story. She is a new author to me but damn, I'm now a die hard fan.
This story is about strength as it is about wits and passion, and boy, does it have a lot of those! I was shocked my kindle didn't burst in flames. Their story is

powerful.

Extremely so. Almost as powerful as the tension between the main characters are.
Juliette and Nathaniel matched each other wit for wit. I really really loved each of their characters, their introduction, their development, and how their relationship flows as we get deeper into their story.
Though their story is fast-paced, no feeling is missed. You will literally feel in this one. And you will feel a lot
As I said before, I have no words....
Bravo for a wonderful masterpiece...
And thank you!
Really, thank you!
❤